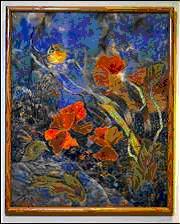 September 23. 2003 9:10AM
Art quilts blanket Thayer library
Karen Nugent
TELEGRAM & GAZETTE STAFF

LANCASTER- When making an art quilt, anything goes, according to Beverly Fine, as long as the materials can be attached to one another, and there is some form of stitching or embroidery involved.
The art quilt exhibit that opened yesterday at Thayer Memorial Library demonstrates the premise quite nicely.
A quilt called "Diary Piece" is exactly that, a diary.
Artist Susan "Lucky" Shie has covered the work with sewn paragraphs - about gardening - along with beads, buttons and a depiction of her mother, also known as "St. Quilta the Comforter."
The thing is, Ms. Shie is legally blind.
"It's just mind-boggling," said Ms. Fine, who is the coordinator of the display.
The exhibit, which will culminate in the two-day annual quilt show fund-raiser for the library on Oct. 3 and 4, is on the second floor of the renovated library, in its rotunda.
There are 50 art quilts, which are smaller pieces resembling paintings, on display. They were selected from 300 submissions from five countries, Ms. Fine said.
After Lancaster, the exhibit will travel to the Lewis-Clark State College Center for Arts and History, in Lewiston, Idaho; the Mansfield-Richland Library in Mansfield, Ohio, and to another locale to be announced.
The theme of the exhibit, "Dreaming the Garden," was chosen by the curator, Laura Cater-Woods, on the occasion of her 50th birthday. She wanted to give back to the larger community, a news release stated, and get more exposure for artists.
The theme reflects her two passions, gardening and fiber arts.
The artists whose work is in the exhibit had no problems interpreting that theme - in many different ways.
"Garlic Emerging" uses satiny-white pieces of fabric to represent garlic cloves in the foreground of a colorful garden. Another art quilt is a delicately stitched poem about flora and fauna attached to a piece of birch bark.
"Organic Shapes 4" by Rosemary Claus-Gray, from Missouri, uses hand-dyed silk that ends up looking like leather.
"In the Heat of the Night" by Olena Nebuchadnezzar, an artist from Virginia, is on a background of hand-dyed blue fabric, dyed using salt. On it are pieces of embroidered home decor fabric for leaves, and representations of a seashore.
"The dyed background gives a feeling of motion, and the stitching gives a feeling of shadows. It's subtle," Ms. Fine said.
Artist Maxine Farkas has developed a unique approach. She wraps fabric around cans, and buries the cans in a compost heap for the winter. When dug up, the fabrics show variations in color and design.
For example, her piece for the exhibit, "Rebirth," has fabric showing rust markings from the can, against a green background.
All of the art quilts are for sale, Ms. Fine said.
"Diary Piece" by Ms. Shie, at $6,000, is the most expensive work in the show, while "Rebirth" costs $400.
During the two-day quilt show, seven rooms at the library will be filled with all kinds of quilts for sale for various prices.
The historic library, built in 1868 as a Civil War memorial, underwent a $4 million renovation and expansion in 1998. A state grant provided $1.3 million for the project, but a town tax override had to be requested when costs went higher than expected. Eventually, the public was asked to give donations in addition to the tax increase.
Ms. Fine said proceeds from the quilt show would go to the Library Building Fund, which still needs money for unfinished details.
Lancaster's library is well-known for its 1,500-piece rare book collection, genealogical research material and eclectic historical museum. The octagonal-shape Soldier's Hall, which initially held the Civil War monument, has become the circulation desk area.
During renovation, a wing and children's rooms were added, along with community meeting rooms downstairs.
Ms. Fine, a quilter herself, said planning for the quilt show, now in its fourth year, started in March. Volunteers must decide on collections, and arrange for artists, judges and prizes.
Although she was taught how to make a quilt by her grandmother years ago - and made a quilt while in high school - Ms. Fine said a real passion for quilting developed about six years ago, when she decided to make a king-size bedroom quilt.
"And there's no making one quilt, once you start," she said. "It's such a way to express creativity, because there's unending, limitless possibilities for construction and ideas.
"It doesn't end; it only gets worse," she said with a laugh.
The "Dreaming the Garden" exhibit will be at the library, 717 Main St. (Route 70), through Oct. 4. The library, on the town green, is wheelchair-accessible.
The Quilt Show will be held from noon to 6 p.m. Oct. 3 and 10 a.m. to 4 p.m. Oct. 4 at the library. A $5 donation is requested.